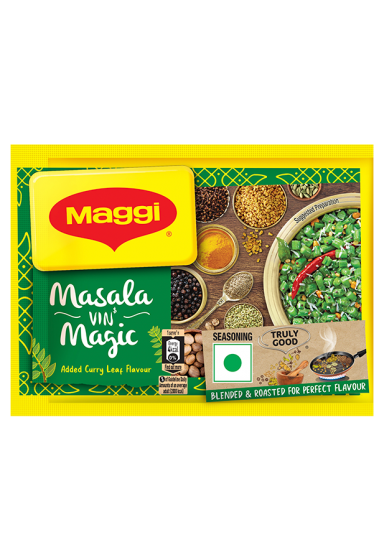 • MAGGI® Masala-vin-Magic is a perfect blend of 10 choicest spices which are carefully roasted at the right temperature for the right time and are then blended to perfection that gives an extraordinary taste to all kinds of poriyals.
• Serve extraordinary poriyal to your kids with MAGGI® Masala-vin-Magic.
• Each serve (2g) provides 15% of your daily requirement of Vitamin A, Iron and Iodine.
INGREDIENTS: Mixed spices (32%) [Roasted spice mix powder (13.9%) (Coriander (4.1%), Turmeric (3.5%), Cumin (1.7%), Aniseed (1.3%), Black pepper (0.8%), Fenugreek (0.6%), Ginger (0.6%), Clove (0.3%), Green cardamom (0.3%), Nutmeg (0.3%)), Dehydrated onion, Dried garlic powder, Fenugreek powder (1.9%)], Iodised salt, Sugar, Capsicum extract (Iodised salt, Capsicum extract), Edible starch, Flavour enhancer (635), Palm oil, Vitamin mineral premix [ Minerals (Ferric pyrophosphate, Potassium iodate), Carrier (Edible starch), Vitamin (Retinyl acetate)], Dehydrated kasuri methi leaves, Acidity regulator (330) and Celery. CONTAINS ADDED FLAVOUR [NATURE - IDENTICAL (CURRY LEAF) FLAVOURING SUBSTANCE]
More Information
| | | | |
| --- | --- | --- | --- |
| | per 100g | per serve | %GDA per serve |
| Energy (Kcal) | 211 | 4 | 0% |
| Protein (g) | 5.0 | 0.1 | 0% |
| Carbohydrate (g) | 37.9 | 0.8 | 0% |
| -Total sugars(g) | 12.8 | 0.3 | 0% |
| -Sugar (sucrose)(g) | 11.8 | 0.2 | 0% |
| Fibre (g) | 4.3 | 0.1 | 0% |
| Total fat (g) | 4.4 | 0.1 | 0% |
| -Saturated fat (g) | 4.1 | 0.1 | 0% |
| -Trans fat(g) | 0.02 | 0.00 | - |
| Sodium (mg) | 16280.0 | 325.6 | 14% |
| Vitamin A, mcg RE/100g | 4500.0 | 90.00 | 15% |
| Iron , mg/100g | 128.0 | 2.56 | 15% |
| Iodine, mcg/100g | 1125.0 | 22.50 | 15% |