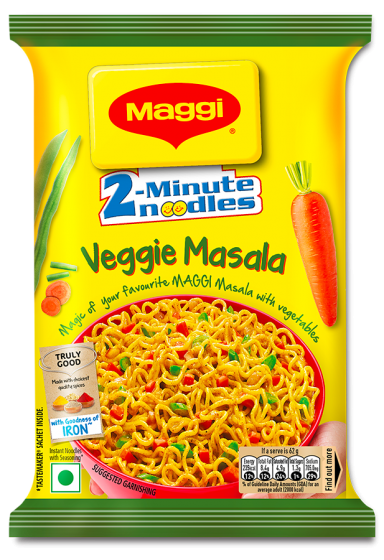 MAGGI® Veggie Masala Noodles
MAGGI® introduces the new MAGGI Veggie Masala Noodles which will turn your hunger into happiness Enjoy the same great taste of MAGGI® with exciting and colorful vegetables like carrots and beans.
Ingredients: Refined wheat flour (Maida), Palm oil, Iodised salt, Wheat gluten, Thickeners (508 & 412), Acidity Regulators (501(i) & 500 (i)) and Humectant (451(i)).
Ingredients: Dehydrated vegetables (18.6%) (Carrot bits (9.3%) & Green french beans (9.3%)), Mixed spices (17.6%), Refined wheat flour (Maida), Iodised salt, Sugar, Starch, Palm oil, Dehydrated onion (4%), Toasted onion flakes (3.7%), Flavour enhancer (635), Dried garlic, Acidity regulator (330), Colour (150d), Yeast extract, Mineral and Wheat gluten.
Contains Wheat.
May contains Milk and Soy.

More Information
| | | | | |
| --- | --- | --- | --- | --- |
| | per 100g | per serve | %GDA per serve | %RDA per serve |
| Energy (kcal) | 379 | 235 | 12% | - |
| Protein (g) | 8 | 5.0 | 10% | - |
| Carbohydrate (g) | 57.7 | 35.8 | 14% | - |
| - Total sugars (g) | 2.1 | 1.3 | 1% | - |
| - Added Sugars (g) | 1.1 | 0.7 | - | - |
| Fibre (g) | 2.8 | 1.7 | 7% | - |
| Total fat (g) | 13.5 | 8.4 | 12% | - |
| - Saturated fat (g) (not more than) | 7.9 | 4.9 | 24% | - |
| - Trans fat (g) (not more than) | 0.12 | 0.07 | - | - |
| Sodium (mg) | 1137.1 | 705 | 29% | - |
| Iron (mg) | 7.70 | 4.77 | - | 16.5% |