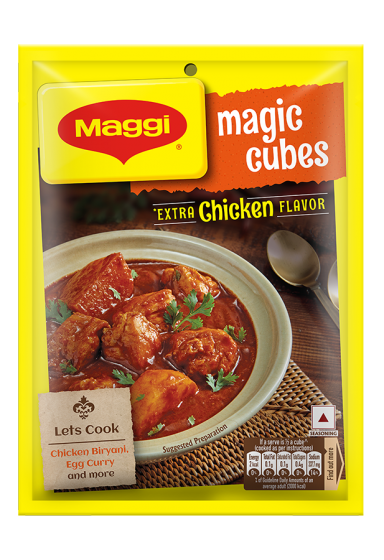 MAGGI® Magic Cubes Chicken
Add magic to all chicken dishes with MAGGI® Magic Chicken Cubes with extra chicken flavor. Just crumble and sprinkle the cubes on your favorite chicken dishes to add delectable chicken flavor, aroma & rich taste.
INGREDIENTS: Iodised salt, Sugar, Flavour enhancer (635), Starch, Palm oil, Chicken meat (1.8%), Natural Flavour, Chicken fat (1.1%), Water, Black pepper powder, Nature
identical flavouring substance, Colour (150d), Acidity regulator (330), Nutmeg powder, Onion and Dehydrated bread.
Contains Wheat. May contains Eggs, Milk and Soy.
More Information
| | | | |
| --- | --- | --- | --- |
| | per 100g | per serve | %GDA per serve |
| Energy (kcal) | 116 | 2 | 0% |
| Protein (g) | 5.0 | 0.1 | 0% |
| Carbohydrate (g) | 17.8 | 0.4 | 0% |
| - Total sugars (g) | 18.2 | 0.4 | 0% |
| - Added Sugars (g) | 18.2 | 0.4 | - |
| Fibre (g) | 0.8 | 0.0 | 0% |
| Total fat (g) | 3.0 | 0.1 | 0% |
| - Saturated fat (g) (not more than) | 2.7 | 0.1 | 0% |
| - Trans fat (g) (not more than) | 0.04 | 0.00 | - |
| Cholesterol (mg) | 4.8 | 0.1 | - |
| Sodium (mg) | 16884.9 | 337.7 | 15% |