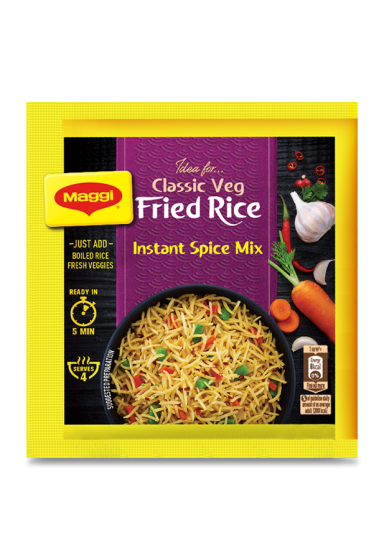 MAGGI® Fried Rice Classic Veg spice mix
Mouth-watering, restaurant style fried rice with a tempting aroma of roasted garlic and unique smoky flavor! Prepare this all time favourite Classic Veg Fried rice with instant spice mix from MAGGI that has been specially curated by expert chefs. Just stir-fry freshly chopped vegetables, instant spice mix and boiled rice to easily cook Fried rice with perfect taste and flavor within 5 minutes.
Ingredients: Mixed spices (44%) (Dried garlic (36%), Red chilli bits (6%), Capsicum extract), Iodised salt, Sugar, Flavour enhancer (635), Caramel salt mix (Iodised salt, Colour (150d), Palm oil), Dehydrated coriander leaves (1.5%), Acidity regulator (330), Dehydrated carrot bits (1%) and Palm oil.
More Information
| | | | |
| --- | --- | --- | --- |
| | per 100g | per serve | %GDA per serve |
| Energy (kcal) | 188 | - | - |
| Protein (g) | 7.4 | 0.3 | 1% |
| Carbohydrate (g) | 36.1 | 1.4 | 1% |
| -Total sugars(g) | 13.6 | - | - |
| -Sugar (Sucrose)(g) | 11.9 | - | - |
| -Fibre (g) | 12.5 | 0.5 | - |
| Total fat (g) | 1.6 | 0.1 | 0% |
| -Saturated fat (g) | 1.3 | - | - |
| -Trans fat(g) | 0.02 | 0 | - |
| Sodium (mg) | 13750 | 515.6 | 21% |
| Energy (Kcal) | 7 | 0% | - |
| Total sugars(g) | 0.5 | 1% | - |
| -Sugar (sucrose)(g) | 0.4 | - | - |
| -Saturated fat (g) | 0 | 0% | - |
| -Sugar (Sucrose)(g) | - | - | - |
| -Fibre (g) | 2% | - | - |