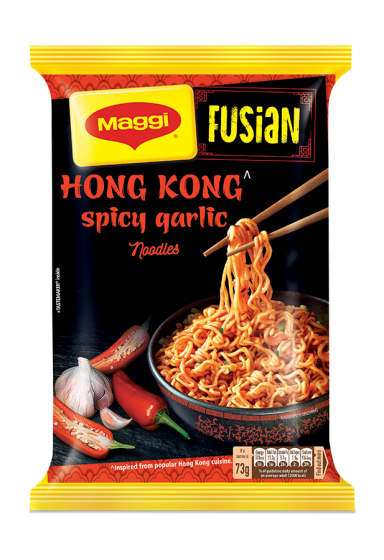 MAGGI® Fusian Hong Kong Spicy Garlic
Inspired from the streets of Hong Kong, an epicenter of food, cuisines and flavors, comes a perfect fusion of rich Asian spices and mild roasted garlic to create a new taste experience.
Ingredients: Refined wheat flour (Maida), Palm oil, Iodised salt, Wheat gluten, Thickeners (508, 412), Acidity regulators (501(i), 500 (i)) and Humectant (451(i)). Tastemaker: Mixed spices (48.6%) (Dried garlic powder (27.1%), Roasted garlic flakes (11%), Red chilli flakes (4.5%), Dehydrated onion, Capsicum extract, Spice extract blend (Capsicum extract, Coriander extract, Cumin extract), Star anise powder), Sugar, Iodised salt, Dehydrated tomato paste solids (Tomato paste, Anticaking Agent (551), Iodised salt), Edible starch, Thickener (508), Flavour enhancer (635), Dehydrated coriander leaves, Palm oil, Acidity regulator (330) and Curry spice extract blend (Onion extract, Palm oil, Chilli extract (0.04%), Ginger extract, Garlic extract (0.02%), Sesame oil). CONTAINS ADDED FLAVOURS (NATURAL AND NATURE IDENTICAL FLAVOURING SUBSTANCES). MAY CONTAIN MILK AND SOYA.
More Information
| | | | |
| --- | --- | --- | --- |
| | per 100g | per serve | %GDA per serve |
| Energy (kcal) | 437 | 319 | 16% |
| Protein (g) | 9.2 | 6.7 | 13% |
| Carbohydrate (g) | 65.2 | 47.6 | 18% |
| -Total sugars(g) | 2.6 | 1.9 | 2% |
| -Sugar (Sucrose)(g) | 2.3 | 1.7 | - |
| -Fibre (g) | 2.3 | 2.3 | 9% |
| Total fat (g) | 15.5 | 11.3 | 16% |
| -Saturated fat (g) | 7 | 5.1 | 26% |
| -Trans fat(g) | 0.12 | 0.09 | - |
| Sodium (mg) | 1280 | 934.4 | 39% |